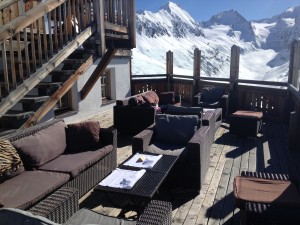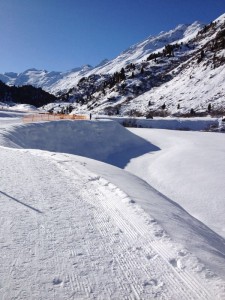 ROAST DUCK WITH MURI-GREIS ABTEI LAGREIN RISERVA 2011
This après-ski food and wine pairing is an ode to one of our favourite wines from the Süd Tirol region, made with Lagrein, one of the indigenous grape varieties of the area.  After a day of skiing in Obergurgl, you will have worked up a healthy appetite for hot, delicious food and a glass of wine to complement the home-cooking. This week, our recipe is for duck confit paired with Muri-Greis Abtei Lagrein Riserva.
RECIPE INGREDIENTS
(serves 8 people)
8 duck legs
large grain sea salt
1.5 kg duck fat
thyme
DIRECTIONS
Rub the sea salt all over the duck legs and refrigerate for one hour. Remove the duck legs take off any excess salt. Warm the duck fat in a large pan on low heat, add the duck legs and thyme and bring to a simmer. Cover and cook slowly (low heat) for 2 hours or until the duck is tender. Slower and longer cooking is better! Cool the duck legs and refrigerate.
30 minutes before your après meal begins:
Put the duck legs back into a pan and cook on medium heat until they start to crisp. Put in the oven (200º) for 10-15 minutes to finish warming. Serve with roasted potatoes and salad.
WINE PAIRING
Muri-Greis Abtei Lagrein Riserva 2011, Süd Tirol, Italy
This is the flagship wine for Muri-Greis, a Benedictine Monastery that has been making quality DOC wine in Süd Tirol since 1947. The winery has made a name for itself by seeing value in old, indigenous grape varieties  that are often neglected. The Lagrein grape variety accounts for the majority of the Muri-Greis production, so you could say that this is their specialty. If you have never heard of it, don't be scared. This variety produces lovely, plummy wines with dense fruit and incredible flavour concentration without being overly heavy, making it a great pairing for duck.
The Muri-Greis Abtei Lagrein Riserva 2011 opens with a fragrant nose of cherry, dry rose petals and earth. The palate is soft and finessed with naturally high acidity, mellow tannins and flavours of kirsch, black plums, liquorice and raspberry. This is a wine for the adventurous wine drinker to enjoy while you can, as you will not find it readily available!
Enjoy this après-ski recipe brought to you by The Chalet at 11º East Obergurgl, Tirol. Stay tuned for another food and wine pairing next week