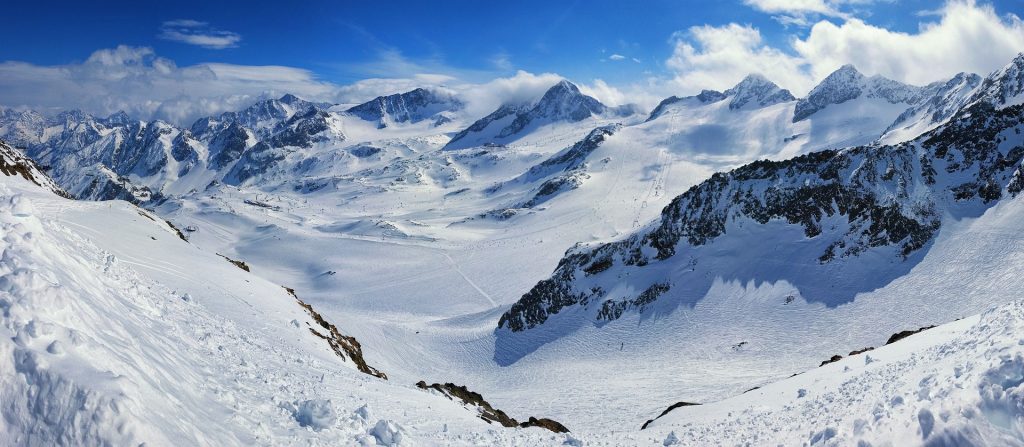 It's snowing in Obergurgl and it's only August!
This bodes well for the 2020/21 ski season ! Book the luxurious The Chalet, at 11º East Obergurgl for a fully catered ski chalet, right on the slopes and in the village centre!
August 4th 2020.  The summer lifts that run in Obergurgl are shut today due to excessive snowfall !
Whilst we all hope Obergurglers get a bit more of the summer ahead of the 2020/21 ski season, we have to say, that whilst snow in August does happen quite often, we don't normally get so much as to shut the lifts !
It may bode well for a great winter season, and The Chalet, at 11º East is only 11 .5 hours drive from Eurotunnel, or a 90-minute flight from Gatwick to Innsbruck. So why not have something to look forward to and reserve your own exclusive bit of unashamed luxury for a week ?
We offer 5 beautiful luxurious en-suite rooms sleeping 10 in total, on an exclusive basis- i.e.  you get the whole place to yourselves with full catering and a superbly well stocked bar.
After a day of fresh mountain air and healthy exercise, sit by the log fire and sip champagne- Veuve Clicquot- or a cocktail, as you prefer. Our two chalet hosts will take good care of you before serving an excellent dinner!
Obergurgl offers fantastic skiing and has an excellent snow record. From Mid-December through to the end of April all lifts are open.
Ski Runs & Mountain Lifts 
Total length of 112 km (Hochgurgl Ski Area: approx. 56 km, Obergurgl Ski Area: approx. 56 km), divided in:
36 km of easy runs (blue)
56 km of intermediate runs (red)
20 km of difficult runs (black)
All slopes are freshly prepared in full length and width every day. Almost all ski runs lead right down into the village centre, offering deluxe ski-in & ski-out to your hotel's doorstep.
25 Mountain Lifts
9 mountain gondolas
9 chairlifts
4 T-bar lifts
2 button lifts
1 rope lift
The "Top Express" 8-person gondola lift connects the ski areas of Obergurgl and Hochgurgl on a direct route. The 50 gondola cabins with a total hourly capacity of up to 1200 people take winter sportspeople on a 3.6 km long panoramic route across scenic Königstal and Ferwalltal side valleys in only 9 minutes.
The Chalet, at 11º East is right on the slopes, and just two minutes walk to the main lifts.
We also have ample free parking for guests, immediately outside The Chalet, should you decide to drive.
Driving allows you to remain in control of your journey and avoid delays and cancellations. If you rather fly, BA and Easyjet both fly from Heathrow and Gatwick to Innsbruck and we will gladly arrange a private transfer from Innsbruck to Obergurgl on your behalf- its just 75 minutes which is a remarkably short transfer for a resort that is so high up -Obergurgl base level is 1950 metres and rises to over 3000 metres at the top.
We operate Sunday to Sunday enabling guests to have a virtually  resort empty last days skiing on the Saturday, when most hotels are changing over.