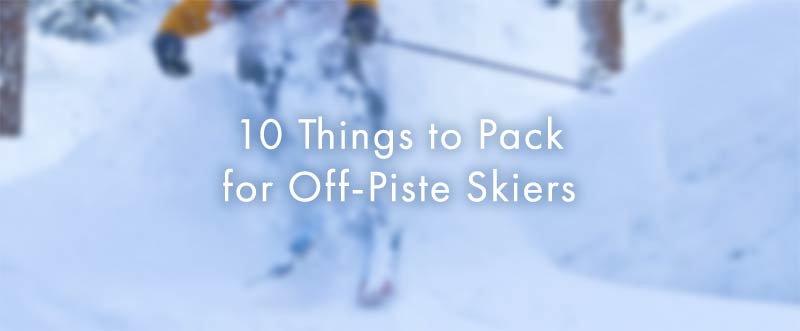 If you're an avid off-piste skier, you never know when the opportunity to ski untracked snow will come up. If you're prepared, you can be spontaneous, and with Obergurgl's snow sure reputation, you can bet on the benefit of planning ahead.
It isn't easy knowing what to take up the mountain so the Chalet at 11˚ East has you covered. Read on for our top 10 things to pack for off-piste skiers.
1. Helmet
Gone are the days when helmets were only used by children and beginner skiers; a helmet is absolutely essential for all skiers. If you don't already have one make sure you rent one before you go up the mountain.
2. Sunscreen
Regardless of what the weather looks like, always wear sunscreen before you hit the slopes. We recommend bringing a pocket size SPF30-50 with you as well so you can reapply on the hill.
3. Waterbottle or Camelbak
Staying hydrated is very important when you're expelling so much energy. Always pack a source of water as you won't always be able to predict how much time you have on the mountain until you're next rest stop.
4. Snacks
Just like you need to stay hydrated, you also need to stay energised! The best snacks are those that can withstand the cold so try trail mix, mountain bars and peanut butter wraps for the best results.
5. Tranceiver
A transceiver gives you the best chance of survival, should you be unlucky enough to be buried in an avalanche. You need to remember to replace the batteries at the beginning of the season and always turn it on before you go off-piste. To learn how to use it we recommend taking a course on avalanche safety such as the courses offered with the Otravox Safety Academy (click here to see our post on course dates in Obergurgl).
6. Shovel
This is another piece of equipment you'll need if you get caught in an avalanche and need to dig someone out. Choose a model that is light and collapsible with a long handle. If you can store a probe in the handle, even better.
7. Probe
This is a long collapsible pole used to located anyone buried in the snow, a vital piece of equipment in the event of an avalanche. The best models are made or durable materials like aluminium or carbon and are at least 200-320cm long.
8. First Aid Kit
You never know when this will come in handy for simple things like cuts and blisters or when you may need to use its contents for a fellow skier. We recommend the Lifesystems Mountain Leader First Aid Kit, it contains 64 items ranging from painkillers to tape and scissors.
9. Thermal Blanket
For emergencies, these are worth keeping in your backpack – it could save you from getting hypothermia. These metallic blankets with reflective cover are windproof, waterproof and provide incredible insulation. They are also so compact that they won't take up too much space in your backpack.
10. Compass
Having a compass on hand in highly recommended since in the event of an emergency your phone may lose power.
These tips are brought to you by the Chalet at 11˚ East; stay safe and happy skiing!