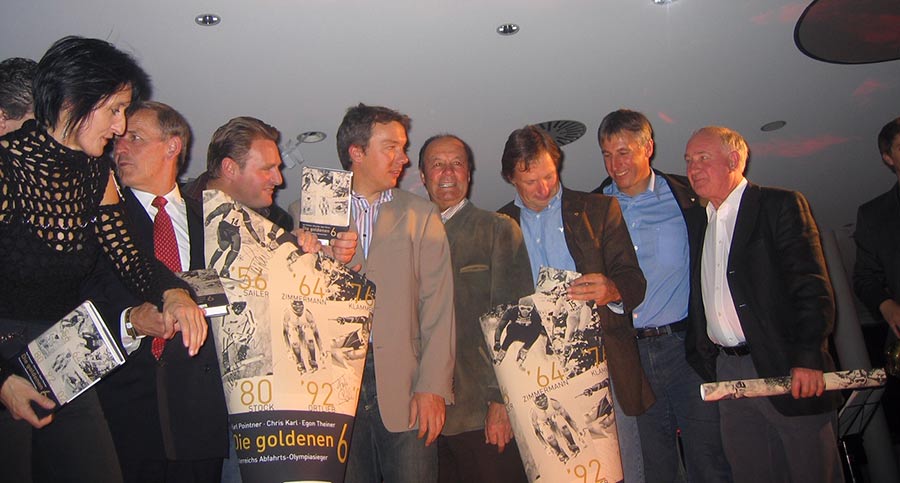 It's happened every year this century – the official European opening of the World Cup ski races on Sölden's Rettenbach Glacier. This World Cup season kicks-off here on the last weekend in October with giant-slalom races for men and women, and attracts thousands of visitors and ski enthusiasts to the Ötztal valley.
It also attracts many veteran ski celebrities. One year when I came to watch I had the unique opportunity to meet – and photograph – every single Austrian Olympic downhill champion there had ever been at that time. I was helped by being a chum of Franz Klammer, who enabled me to grab the photos without my being too self-conscious. And also because Leonhard Stock once danced with my wife Vivianne on the table at a party celebrating Klammer's birthday at St Christoph, near St Anton. Endearingly, Fritz Strobl, the 2002 Salt Lake City downhill champion was so much younger than the likes of Sailer, Zimmerman and Klammer that he asked me to take a picture of him with Klammer because he was too shy (and respectful) to ask Klammer to pose himself.
Here are the names of the ski supremos in the photos!
Toni Sailer (1956 Cortina) Not only Downhill, but Giant Slalom and Slalom. An amazing hat trick indeed! (he died 2009).
Egon Zimmermann (1964, Innsbruck). (died 2016).
Franz Klammer (1976, Innsbruck).Leonhard Stock (1980, Lake Placid).
Patrick Ortlieb, (1992) Albertville).Fritz Strobl (2002) Salt Lake City).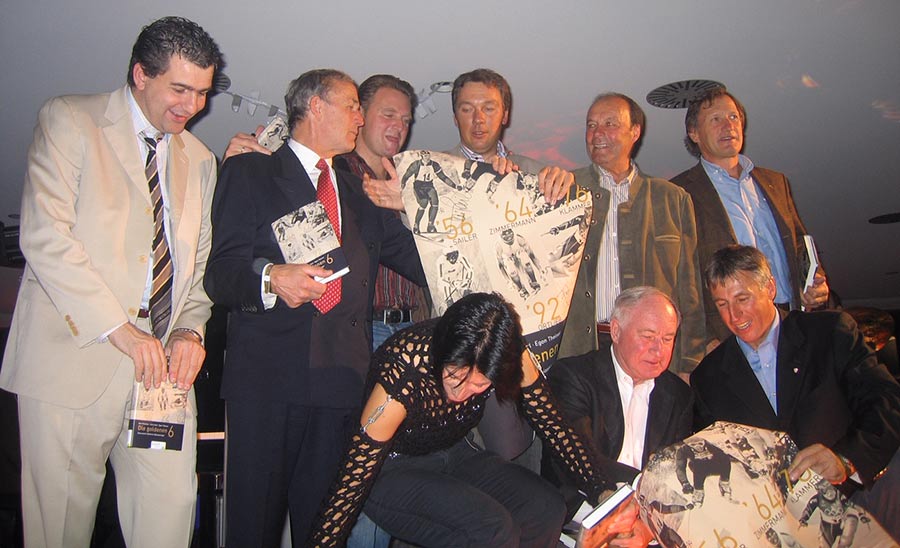 These photos are unique and unrepeatable…because sadly both Toni Sailer and Egon Zimmerman are no longer with us. But what an amazing scenario: what a collection of talent under one roof. What an endorsement of the glacier slopes of Sölden, just down the road from us here in Obergurgl. And what a privilege to have been there! By the way, the slowest skier in the Hahnenkamm Downhill of 1969 in Kitzbühel took around one minute longer than Fritz Strobl, in 1997. Alexandr Prokofjew took 2:48.84 minutes – the slowest time since the inception of World Cup standings in 1967!
By Arnie Wilson
First person to ski 365 consecutive days (FT Round The World Ski Expedition, 1994) Travel writer for The FT, and Huffington Post    http://www.huffingtonpost.co.uk/author/arnie-wilson
Areas skied: 734 – including all 38 USA skiing states and 40 heliski operations in 14 countries