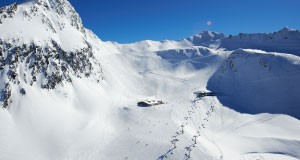 Once again, it is that time of year – the ski season is about to begin! The waiting is almost over because on the 16th of November Obergurgl – Hochgurgl will start-up the lifts for the 2017/18 ski season. As always, the diamond of the Alps will kick-off the season with its annual winter opening events which include a fun-filled entertainment and show program with a musical hut rally at all mountain inns and opening parties at the Winter Palace.
The festivities begin on Friday 17 November with the Bayern 1 Ski Opening Party, featuring Troglauer live on the stage at 9pm. On Saturday the Musical Hut Rally (with live music) takes place at Hot Mut Alm and Top Mountain Star (starting at 1pm). The Bayern 1 Ski Opening Party also continues at the Winter Palace with the Bayern 1 Band taking the stage at 9pm.
The special opening week program will continue past the weekend with many different activities and parties. For the full schedule, check out www.obergurgl.com/ski-opening.
There are a few other opening week specials to make sure you don't miss out on. First, there is free ski guiding with local ski instructors of the Obergurgl and Hochgurgl Ski Schools from 10am beginning Monday. Advance booking is required so make sure to contact the ski school to take advantage! Second, there are some great discounts being offered on the mountain. Enjoy a 20% discount on all ski rentals in ALL sport shops in Obergurgl-Hochgurgl and 10% off the admission price for the Motorcycle Museum at Top Mountain Cross Point.
The winter opening of Obergurgl is sure to be a great week packed with skiing, great après-ski parties, live music and great deals all over the mountain. We hope to see you there!