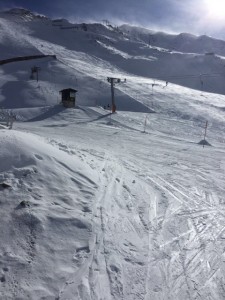 Such a good start to the season in Obergurgl with tons of snow which makes all the locals walk around with a big smile!
Muscles, however, are getting bigger! Yes, the more snow there is, the more we have to shovel it out the way. So, think Pop Eye and tell the locals they have great biceps and we are all happy.
Did you know that each year Obergurgl's piste bashers groom 110km of snow to make your day on the piste super smooth. So, as you head down the slopes to enjoy the après ski with a hot gluehwein or schnapps, cast a thought to the night workers whose work driving the red piste bashers is just beginning. Often going up the mountain in threes, each slope is groomed to get rid of unwanted bumps and crust. It's an all-night affair with the talented driving team returning in the small hours to ensure that Obergurgl's guests have the best possible experience on skis.
First thing in the morning, the avalanche monitoring team also take to the helicopter to check the pistes for dangerous snow accumulations and where necessary detonate the snow overhangs to ensure guest safety. Obergurgl's unsung heroes have a monumental job to ensure that we can all ski care free.
Safety, however, is also down to the individual skier. The resort might make the pistes available to you in pristine condition but if your body or skill set isn't as good as it should be you should proceed with caution. Remember every skier has a duty to ensure the safety of himself and others on the piste. Ski safe, ski sober, and ski within the limits of your own ability. For a great time skiing check out the advice from the team at The Chalet, at 11º East.