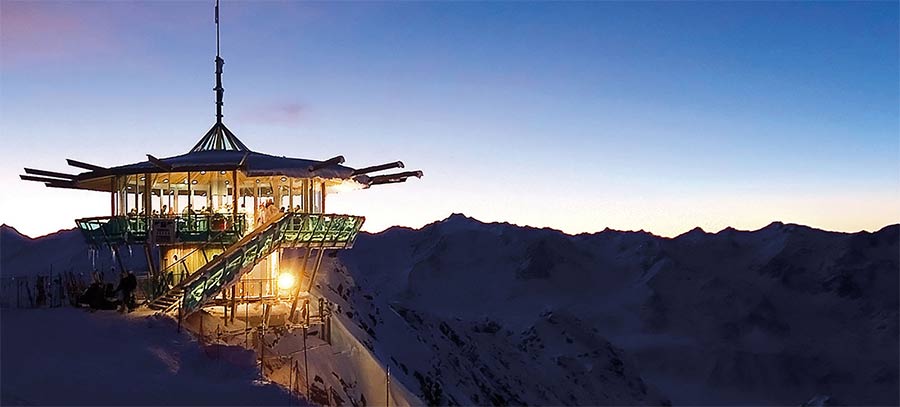 The Top Mountain Crosspoint Centre, a new multifunctional building with a great restaurant with spectacular views. If you fancy motorbikes, this centre also hosts the Motorbike Museum.
Whether or not you enjoy horseback riding, the Edelweiss & Gurgl indoor riding arena is a great day-time visit on your trip to Obergurgl. This is where the impressive Haflinger ponies are stabled which are great to see even if you don't feel like taking a riding lesson!
Go ice skating. The impressive rink is open daily from 4.30pm-10pm.
The Obergurgl Ski Show is something to see! Ski instructors put on a fantastic night show where you can see them jumping through hoops of fire, performing stunts and finishing the evening with fireworks. This is a great activity for the whole family.
Treat yourself to some rest and relaxation at one of the many hotel wellness centres in Obergurgl and the surrounding area. The centres offer massage, steam rooms and other spa services.
Tobogganing! There is a 3km tobogganing track with exciting twists and turns.
Try out Austrian curling (Bavarian curling). This is a different version of the sport than what you would see in the winter Olympics; it is fun and easy for the whole family.
Visit the Top Mountain Star. This is a stunning platform bar perched 3,080 metres high up in the mountains where you can dine, have a glass of wine and enjoy the breath-taking views.
Hop over to Sölden and visit the Ice Q bar, this is where Daniel Craig drank during the making of Spectre!
Ski! Even if you are not an avid skier, Obergurgl is the best place to learn with slopes for every skill level. The snow-sure reputation and long lines of open piste (without queues) guarantee a great ski experience. Night skiing occurs every Tuesday if you fancy gliding down the moonlit slopes!