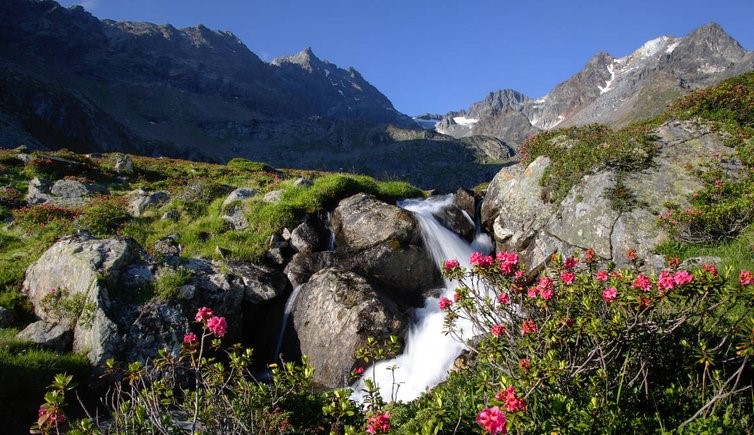 While the Ötztal Valley is more popular for winter holidays, the summer months in this part of the world are absolutely magical. One trip up the Hohe Mut Bahn Gondola to the panoramic glacier view lined with blue sky and green meadows and you'll see why skiers come to Obergurgl for the winter, then stay for the summer.
To prove this point, here are our top summer activities in Obergurgl in words and pictures:
Hiking
Hiking in Obergurgl-Hochgurgl is second to none. Explore the vast terrain, a colourful patchwork of green meadows, snow-capped glaciers, ancient rocks and wildflowers. Skill-level isn't a worry here, as there are trails for both advanced hikers and those who simply want a "walk in the park". Start with the Ötztal Nature Park, which comprises the 500 kilometres of environmentally unspoilt landscapes in the Ötztal Valley.
Otztal Nature Park – Photo from www.tyrol.tl
Biking
Biking/cycling is world-class in the Ötztal Valley with plenty of trails, routes and diverse terrain for all skill levels. Obergurgl.com offers a cycling routes list with tons of information with the length of the route, skill level and highlights of the route. Bike rentals are available at Scheiber Sport in Obergurgl.
A helpful map can be downloaded here: https://www.obergurgl.com/bike-cycling-routes-map-view.
To check out the popular routes, click here: https://www.obergurgl.com/bike-cycling-routes-list-view.
Cycling in Obergurgl – Photo from www.obergurgl.com
Horseback Riding
Unbeknownst to most, Obergurgl offers superb horseback riding! Enjoy a guided ride on one of the beautiful Tirolean Haflinger horses or stay inside at the Top Obergurgl Riding Centre – a world-class indoor riding hall in the centre of Obergurgl. For more information on horseback riding in Obergurgl, click here: https://www.obergurgl.com/horse-riding-summer.
Escorted trek on Tirolean Haflinger horses – Photo from www.obergurgl.com  
Mountain Hut Walks
One of the must-do summer activities in Obergurgl is a walk to a mountain hut or alpine refuge. The huts are sprinkled throughout the valley and are easily accessed by gondola, followed by a scenic walk. You'll pass through a combination of meadows, mountains and lakes (depending on which hut you visit) and most serve lunch and drinks for a lovely meal once you arrive.
Fr the full list of huts and a description of each, click here: https://www.obergurgl.com/serviced-mountain-huts-list.
Zwickauer Hutte – Photo from www.sentres.com
This post was brought to you by The Chalet at 11° East.