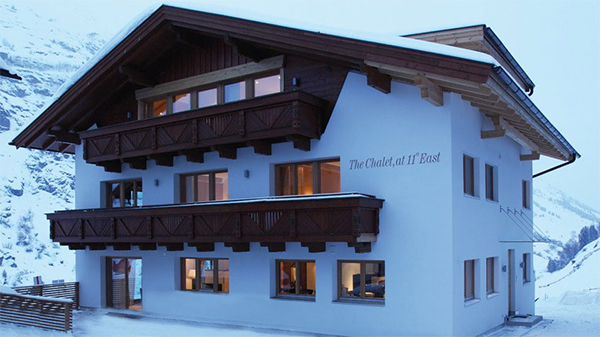 I'm looking forward to re-visiting one of my favourite resorts – Obergurgl-Hochgurgl – at the end of November. The problem is – (if you can call visiting such a delightful ski area a problem) – will I know it when I see it? Daft question, you may ask. The ski area, beloved by so many British holidaymakers for so long, is in the heart of the Tyrolean Alps, at the southern end of Tirol's Ötztal Valley. So I know roughly where to find it – as well as the luxurious, ideally located Chalet 11o East.
But the ski area is currently undergoing something of a make-over. And it's pretty exciting stuff! A brand new, state-of-the-art gondola (they always say that, don't they… if it's new – and it is – it's always "brand new" and inevitably "state-of-the-art"!) will be speeding from the valley to the mountain top at Hochgurgl this autumn. The 10-person Kirchenkar "Top Mountain Cross Point" lift will transport 2,400 people per hour – not only increasing capacity but also reducing lift queues. (Not that there were many). The base station will also house a fascinating new motorbike museum (Europe's highest) and a new restaurant, serving Austrian alpine cuisine favourites, providing dining for 220 inside and seating for a further 220 outside on a terrace with superb panoramic views.
Goodness know what the Swiss aviation pioneer Auguste Piccard would have made of all this. It was he, of course, who first put Obergurgl (the highest parish in Austria) on the map back in 1932 when he landed his aluminium "stratosphere-cabin" attached to a hot-air balloon on the Gurgler-Ferner glacier, after achieving a world altitude record of just under 16000m (just under 10 miles).
Thanks to the high Alpine location, Obergurgl-Hochgurgl will be opening its winter season on November 12 – before pretty much all other "non-glacier" ski areas do. I'm sure Chalet 11 º East looks forward to your company. At around 1,930m, their guests don't call the chalet "high-end" for nothing!
Arnie Wilson was previously  Financial Times ski correspondent for 15 years, and in 1994 entered the Guinness Book of Records after skiing for 365 consecutive days in 230 resorts, including (of course), Obergurgl, on March 21 that year. He later edited the Ski Club of Great Britain's magazine, Ski+board for 13 years and has now skied a total of 729 ski areas, including resorts in all 38 American states that have ski lifts.