If you are not an avid skier and only take a trip down the slopes every now and again, you probably don't have your own ski equipment. If you are coming to The Chalet at 11º East, that is no problem. Leave your excess baggage at home and take a peek at our preferred ski rental  shop where you can rent skis, boots and poles. Please refer to the link below and don't forget to print off the packing check list (these are the items you will want to buy instead of rent) for your vacation at the Chalet at 11º East Obergurgl.
Intersport Riml is just yards away from The Chalet at 11º East. The shop is large and very nicely equipped. It  has a little bar  where one can have a coffee or beer as one waits for the other  members of a group to get fitted out.  Intersport Riml  stocks a fantastic range of top quality clothing to  buy – including Bogner, Killy, J Lindberg, Kjus etc.
The rental section is excellent. Every year they replace all their equipment with brand new  new rental  equipment -both skis and boots- and the staff are very helpful and knowledgeable, ensuring you get the best possible fittings . If one is thinking of buying, one can change equipment as often as one wants  -at no extra charge -in order to become comfortable and ensure one has chosen  the most suitable skis etc .
Intersport Riml has 6 stores in and around Obergurgl  and the slopes. If you need to change your equipment, one can call in at any of the shops to swap skis or boots as needed.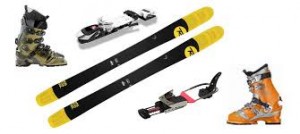 http://www.intersportriml.com/en
Address: Zentrum Obergurgl Piccardweg 5, 6456 Obergurgl, Austria
Phone: +43/(0)5256/6216
Alternate Location:
Address: Kressbrunnen Kressbrunnenweg 6a, 6456 Obergurgl, Austria
Phone: +43(0)5256/22998

Packing Check List
Ski bag
Ski goggles
Winter boots (non-ski)
Sunglasses
Water proof gloves or mittens
Heavy sweaters
Long underwear
Neck warmer or scarf
Turtlenecks
Warm hat
Waterproof ski jacket
Waterproof ski pants (choose pants made of tightly woven nylon, polyester, or Thinsulate)
Waterproof socks (look for wool-blend socks that wick away moisture to keep feet warm and dry)