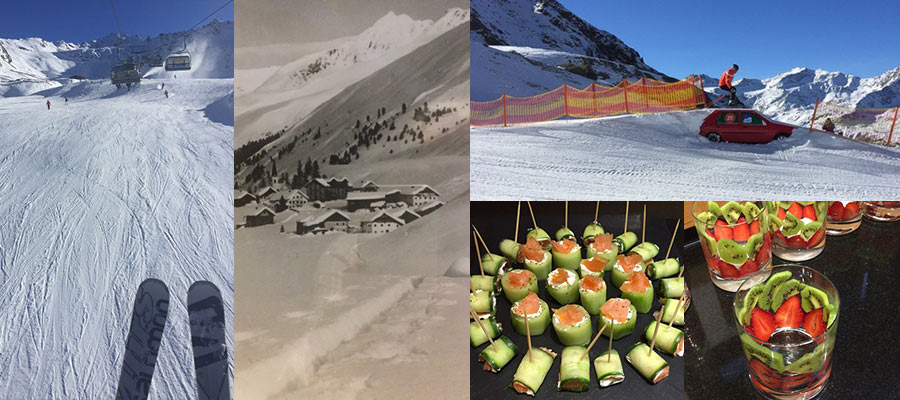 The Chalet at 11° East is pleased to announce that Powder Snow Week is coming soon to Obergurgl! Beginning the 14th of January, the mountain will be buzzing with activities for the entire family, including snowshoe hikes, special ski school events, yoga in the Alps, and more.
The timing couldn't be better to celebrate the amazing powder snow in the Diamond of the Alps – just yesterday, Obergurgl received 10 cm of fresh snow and Hochgurgl received 20 cm!
The Powder Snow Week activity program runs from the 14th until the 21st of January and advance sign-up is required. For any of the ski school or sports related activities, make sure you bring your own equipment.
For the full program of Powder Snow Week activities, read below. For any further information on any of the program events, contact Obergurgl Tourism or visit the website www.obergurgl.com.
 Sun, 15.01.
4.30 pm – 6.00
YOGA in the ALPS at the Piccardsaal Obergurgl with Apura Yoga coaches
5.00 pm – 7.00
ICE SKATING & ICE CURLING at the Obergurgl ice rink
 
Mon, 16.01.
10.15 am – 11.45
YOGA in the ALPS at the Piccardsaal Obergurgl with Apura Yoga coaches
2.00 pm
PISTENBULLY RIDING for everyone at the Krumpwasser lift
4.00 pm
APRÈS SKI PARTY at the Nederhütte with live music
4.30 pm – 6.00
YOGA in the ALPS at the Piccardsaal Obergurgl with Apura Yoga coaches
8.00 pm
NIGHT SNOWSHOE HIKE accompanied by the Obergurgl ski school
Tue, 17.01.
9.00 am
FREE RIDING off the pistes with the team of Alpincenter Obergurgl
9.00 am
GUIDED BEGINNER SKI MOUNTAINEERING with Alpincenter centre
10.15 am – 11.45
YOGA in the ALPS with Apura Yoga coaches
4.30 pm – 6.00
YOGA in the ALPS with Apura Yoga coaches
6.30 pm – 10.30
NIGHT SKIING & SKI SHOW (9.00 pm) at the Festkogel
Wed, 18.01.
10.15 am – 11.45
YOGA in the ALPS with Apura Yoga coaches
1.00 pm
TASTER CROSS-COUNTRY SKIING with the Obergurgl ski school
4.00 pm
APRÈS SKI PARTY at the Nederhütte with live music
4.30 pm – 6.00
YOGA in the ALPS with Apura Yoga coaches
Thu, 19.01.
10.15 am – 11.45
YOGA in the ALPS with Apura Yoga coaches
2.00 pm
PISTENBULLY RIDING for everyone at the Mahdstuhl lift
4.00 pm
APRÈS SKI PARTY at the Nederhütte with live music
4.30 pm – 6
YOGA in the ALPS with Apura Yoga coaches
7.30 pm – 10.30
NIGHT TOBOGGANING & NIGHT SKIING in Hochgurgl
Fri, 20.01.
9.00 am
FREE RIDING off the pistes with the team of the Alpincenter Obergurgl
9.00 am
GUIDED BEGINNER SKI MOUNTAINEERING TOUR with the Obergurgl ski school
10.15 am – 11.45
YOGA in the ALPS
4.00 pm
APRÈS SKI PARTY at the Nederhütte with live music
4.30 pm – 6.00
YOGA in the ALPS
Sat, 23.01.
10.15 – 11.45
YOGA in the ALPS