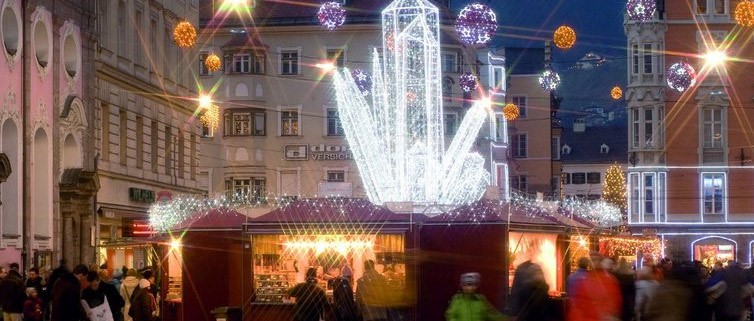 Get into the festive spirit and visit one of The Chalet at 11° East's favourite events of the year – The Obergurgl Christmas Market! Explore the winter wonderland of green, white and red stalls, twinkling lights and delicious treats offering artisanal products from the Ötztal! The market features food, wine, crafts, textiles, woodwork and traditional decorations that will put you into the Christmas spirit. Warm-up with a cup of mulled wine and treat yourself to some of the delicious traditional food that can be found all around the market. This is a great event for the whole family that you don't want to miss!
If you haven't already finished your Christmas shopping this is also a great place to find lovely gifts such as, hand-knitted hats, felt slippers, Christmas tree ornaments and handmade candles.
The Obergurgl Christmas Market takes place on Friday and Sunday from 4pm-8pm until the 22nd of December. Live music will be featured at every market from 5:00-6:00pm. No tickets or registration is necessary, just come to the Obergurgl Village Square, bring the family and your Christmas cheer!
Details:
Obergurgl Christmas Market at the Obergurgl Village Square
Friday and Sunday (2/12 until 22/12)
Market open 4-8pm
Live music 5-6pm
If you are interested in visiting other markets in the area, we also recommend these nearby Christmas markets:
The Old Town Christmas Market, Golden Roof, Innsbruck
This picturesque market is set under Innsbruck's famous Golden Roof with the Nordkette mountains in the distance. Listen to the sounds of trumpeters playing Christmas songs on the balcony while you shop through the stalls of handmade Christmas decorations and Tirolean treats.
Seefeld Christmas Market
The ski resort of Seefeld forms the backdrop to one of the most beautiful villages in Tirol with a Christmas market that runs all the way into the first week of the New Year. This market is known to have great food such as gingerbread and local Zelten fruit cake. If you fancy some music be sure to join a torch-lit trail in neighbouring Leutasch where you will walk along carrying lanterns whilst listening to traditional folk songs.
Rattenberg Christmas Market
The town of Rattenberg is famous for its medieval glass-making. Here you can wander the charming streets and stop-in at the local glass artist studios to see the beautiful work and pick up a Christmas gift or two!
The Kufstein Fortress Christmas Market
The Christmas Market in Kufstein is the ultimate market for families! This market is based in two different locations: in the town centre and up at the Kufstein Fortress. Stroll through the festival market stalls or join a guided forest walk to the old Thierberg Chapel. Carousel rides, pony riding, handmade crafts and delicious local products are all at your disposal.
We hope you enjoyed this post brought to you by The Chalet at 11° East!