Funslope comes to Hochgurgl!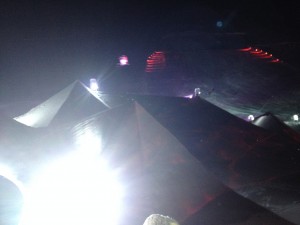 Hold on to your hats and mittens, the new funslope concept is now open in Hochgurgl! The new addition to the mountain is attracting skiers and snowboarders looking to bring an extra thrill to their luxury ski vacation at The Chalet at 11º East Obergurgl.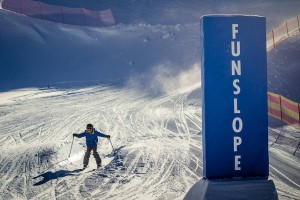 What is a Funslope exactly? The name says it all. It's unique, it's fun…it's a slope. Technically speaking, a funslope is a distinct area within a ski resort with grounds that are a hybrid between a slope, snowpark and cross. The track is conducted as slope with two different routes at the maximum. You'll find a combination of elements that are similar to those in a beginner snowpark, such as boxes and smaller jumps with the addition of playful elements like bridges, tunnels or a snail. Other elements like banks, tunnels, steep curves and direction changes can also be found to add to the diversity and complexity of the installation.
The best part of the funslope is that anyone can play. Beginners and advanced skiers alike can participate, each at his own speed, with his own style. The objective is to experience your own personal style and work on your technique, at your own pace. Funslopes are great for families and can also be regarded as a casual introduction to a snowpark or cross for those looking for a challenge.
The Funslope in Hochgurg is divided into two action areas: the upper and lower parts of the slope. The upper consists of two small jumps, a 7m long tunnel, a fun-twister and many swift bank turns. In addition, there is a 5m rainbow butter-box, a slippery tub to challenge your balance and a giant hand you can high-five after successfully completing your first run. The lower area of the funslope is where you will find a plethora of tracks made of banked runs, snowy hills, a tunnel and jumps galore.
To get to the Funslope Hochgurgl, take the cable railway Hochgurglbahn I/II and then the gondola Wurmkoglbahn. Ready, set, go.
For more information: http://www.obergurgl.com/fun-slope-hochgurgl