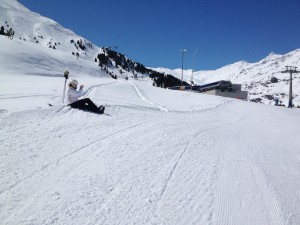 If you're planning a trip to the Chalet at 11º East Obergurgl you may want to consider a day (or two) of cross-country skiing. Imagine those skinny skis, gliding along snowy paths while you spy powder covered trees and blue skies above you, while getting the workout of your life.
Obergurgl-Hochgurgl boasts 12 kilometres of Nordic ski trails, including three practicing tracks and one kilometre equipped with floodlights. Professional instruction is available for the two-types of cross-country skiing are available: classic and skate.  If you're a savvy cross-country skier you may want to take a trip to nearby Ötztal, where you'll find 195 kilometres of tracks and the wide open basin of Längenfield.
The benefits of cross-country skiing are notable. Besides the scenic paths and peaceful surroundings, you'll get an amazing whole body workout. Many alpine skiers actually use cross-country skiing as a form of endurance training to increase stamina and overall fitness. Furthermore, the activity is low-impact and uses all of the muscles in your body , making it easy to participate even if you suffer from bad knees or other injuries.
If you're a beginner and haven't tried cross-country skiing before, don't be discouraged, this is a sport that is relatively easy to pick up! Recently, I had some friends visit from Canada who had not skied before (contrary to popular belief, not all Canadians were born on skis). I thought cross-country would be a gentler introduction to skiing so we rented the necessary equipment and off we went into the white abyss. The snow swished beneath our feet as we glided silently along the paths at our own pace. Within 4 hours we felt like experts and had enjoyed an afternoon of skiing sans queues, cold chair lifts and busy mountain traffic.
What is not to love about cross-country skiing? You get an amazing, low-impact workout, see the beautiful winter scenery of Obergurgl and skip all the line-ups! Best of all, anyone can participate!
If you are interested in checking out the nordic tracks in Obergurgl-Hochgurgl, here are some resources:
Nordic tracks in Obergurgl-Hochgurgl:
http://www.obergurgl.com/urlaub/EN/GG/WI/aktivitaeten/abseits_der_piste/langlaufen/langlaufloipen/index.html
Obergurgl-Hochgurl Nordic Map:
http://www.obergurgl.com/urlaub/EN/GG/WI/aktivitaeten/abseits_der_piste/langlaufen/routen_karte_winter/index.html