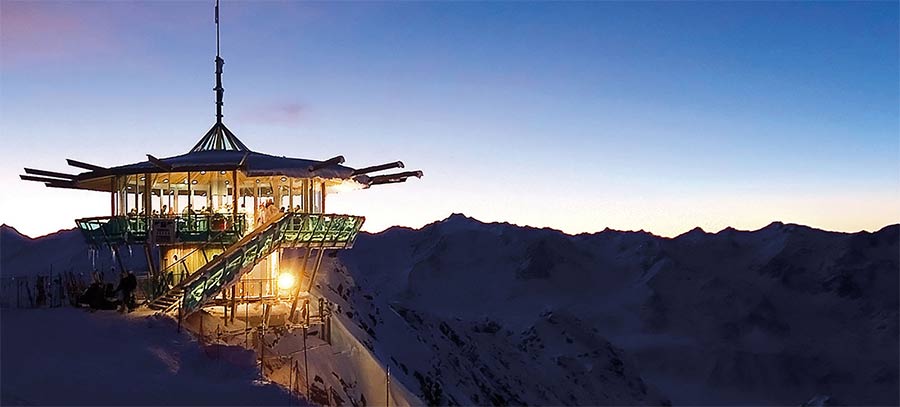 When you're staying at the Chalet at 11˚ East Obergurgl, the perfect day on the slopes ends with the après ski tradition. Imagine your last ride of the day has just completed, you're tired but exhilarated from a wondrous day on the mountain and your thirst for a refreshing beverage leads you to one of the many après ski meeting spots in Obergurgl.
If you are ready to come back to the Chalet at 11˚ East, we have you covered; however, if you're looking to enjoy the atmosphere and buzz of après ski of the mountain, read on for our list of top places to go (in no particular order).
The Summit Bar at Top Mountain Star
Arguably, the Top Mountain Star offers the best view in Obergurgl! Enjoy the 360 degree views of surrounding peaks while you sip from a stellar selection of wine, beer and cocktails inside this architectural masterpiece. Make sure you take a peak at the "star bar" which features thousands of Swarovski crystals.
Bergbahnen Hochgurgl
Hochgurglerstrasse 8, 6456 Hochgurgl
T: 0043 5256 6265 560
F: 0043 5256 6265 10
bergbahnen@hochgurgl.com
www.tophochgurgl.com
Schirmbar Jenewein
Located in the Hotel Jenewein, the Schirmbar is a top notch place for lounging with a beer, wine or traditional schnapps, indoors or outdoors.
Doris Schöpf
Ramolweg 15, 6456 Obergurgl
T: 0043 5256 6203
F: 0043 5256 6203 44
info@hotel-jenewein.com
www.hotel-jenewein.com
David's Skihutte
If you're looking for traditional Austrian cuisine, this is the après ski bar for you. Enjoy the traditional atmosphere and wonderful food and drinks. Often, there is live music at this venue as well!
David Schöpf
Gaisbergweg 25, 6456 Obergurgl
T: 0043 5256 6332
F: 0043 5256 6332 14
info@davidshuette.com
Toni's Almhutte
At the Sporthotel Olymp you'll find Toni's Almhutte also known as Tony's Alpine Hut. Enjoy the magic of après ski with a traditional schnapps and tasty raclette in this traditional Austrian ski hut!
Harald Steiner
Hochgurglerstrasse 1, 6456 Hochgurgl
T: 0043 5256 6491
F: 0043 5256 6380 65
office@olymphotel.at
www.olymphotel.at
The Nederhutte
The atmosphere at the Nederhutte will put you in the après ski spirit. Usually packed with skiers, the Umbrella Bar is a great place to enjoy après ski with a view. Enjoy live music, great food and wine and festive surroundings.
Rudi Gamper
Hütten Gurgl 305, 6456 Obergurgl
T: 0043 5256 6425
F: 0043 5256 6317 60
sissy@nederhuette.at
www.nederhuette.at
Photo from:
http://www.tophochgurgl.com/en/ds5/culinary-highlights/top-mountain-star.html