With many lower resorts suffering from a lack of snow, Obergurgl has once again come up trumps with excellent early snow!
We all enjoyed an excellent days skiing with the snow on the Hohe Mut better than I can remember for years!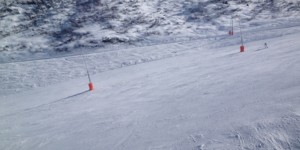 Restaurants and Huttes were packed at lunchtime with what seemed to be half of Munich that  had driven out for some weekend skiing. With Obergurgl just 90 minutes from Innsbruck and only 3 hours from Munich, we are an easy resort to reach.
Today we welcomed to The Chalet, at 11 º East Obergurgl our new Chalet girls -Annabelle and Amelia who join us for the season, having extensively trained for their role in England at Orchards Cookery School. The resort is already filling up , not least because the snow is so much better than most other resorts.
Christmas is less than three weeks ahead of us , and with several more dumps of snow forecasted from tomorrow , the resort will be in full swing for the main onslaught of guests. The very modern lift systems installed throughout the resort mean queues are non- existent even when Obergurgl is operating at full capacity, – always an important factor when booking a ski holiday.
Regular and new guests alike will enjoy the brand-new Obergurgl Snow Park which was opened in the "Diamond of the Alps" at the beginning of the 2013/14 winter season. Snowboarders and free-skiers can choose from 17 obstacles spread over three different lines. The professional team of "QParks" designed and created this new highlight next to Bruggenboden lift. Varied obstacles, kickers and shred zones await both advanced and beginners. A 6 meter long rainbow butter box, a dual curved box, a lollipop area, several tubes or rails add to a fantastic winter day. Two professional shapers take care of the ultimate Snow Park all winter long – a whole new Diamond!
More detailed information about the Quattro Snowpark Obergurgl:
www.snowpark-obergurgl.com