On of our guests clocked up this speed on Friday whilst enjoying the excellent snow here in Obergurgl. You can download Ski tracks app from Apple . It provides all sorts of data as to how fast  you have skied etc.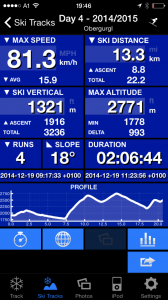 Many other resorts are barely open, some not at all, but snow assured Obergurgl is open and has beautifully pisted runs.
Come and enjoy a week or a short break with The Chalet at 11 degrees east Obergurgl. We have great rates available in January!