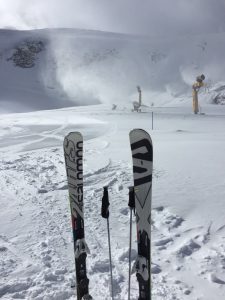 Whilst many of the guests of our luxury catered ski chalet, The Chalet, at 11º East Obergurgl are regulars who need no help when selecting skis, for some, it's their first question.
If you want to get the most out of your ski holiday, hiring or buying the right equipment is essential, even more so if you are a nervous skier that wants to avoid having their confidence knocked if conditions become unfamiliar to what you have previously experienced.
Below a short list of the best skis for different conditions and best skis for different abilities.
Beginners:
If you are a beginner and skiing on nicely pisted slopes then choose skis with a softer flex that have narrower widths, helping you make easier turns and giving you more control.
Established Skiers:
You probably want to have a stiffer ski for well pisted groomed snow
Best Skis if conditions are icy:
A stiffer ski with nice sharp edges is the best way to handle an icy day. If you rent your skis from Riml Sports in Obergurgl they will gladly sharpen them in the morning for free if you wake up to find the conditions look a little icy.
Carving or Piste skis

If you hunker for the ability to ski down beautifully groomed and well pisted slopes, carving skis are the ones for you. They will help you to perfect tight turns and are generally the best ski for most ski holidays. Carving skis are narrower at the waist (the middle of the ski) and this helps you turn more easily and faster. Carving skis are certainly the ski of choice if holidaying in Obergurgl which is proud of its well pisted and prepared slopes. Beginners and intermediate skiers should certainly opt for this type of ski, making it much easier to learn or improve on than more technical skis.
All Mountain Carve
Designed to go wherever you want and not so different to piste skis but slightly wider, they are that bit more stable which means that they are good on the piste, but also good if you are the sort of skier that likes to take the odd run down the sides of the piste over ungroomed snow as well! If you are an all-rounder looking for the one pair of skis that will take you through the powder in January and a softer kind of snow in May then these may be the ones to consider.
Often known as all-mountain skis, and you should  be comfortable with them, whatever the snow quality or terrain.
All Mountain
They aim to give you support both on and off piste, but models vary enormously in their width & camber. These are good skis when going off for the day in a group that plan to do lots of varied skiing. It's worth understanding what type of all mountain ski you are renting or buying as some models are better in soft snow and some on the piste
Powder
Powder skis have much wider waists than other skis and are designed to handle deep soft snow.
Freeride
Great in soft snow, Freerides are built for powder and going in and out of trees.
All Terrain Freestyle
These have twin tips so they are the same at the back as the front, great if you want to do tricks and ski backwards.  They usually have softer flexing than all mountain models, but like all mountain skis they are designed to go anywhere and come in a range of styles in terms of camber and side cut.  Again, check with your shop as to just what type of All Terrain type ski they are supplying.
Some useful links if you want to have more information about skis:
https://www.snowandrock.com/expert-advice-and-inspiration/buying-guides/ski-technology-guide.html