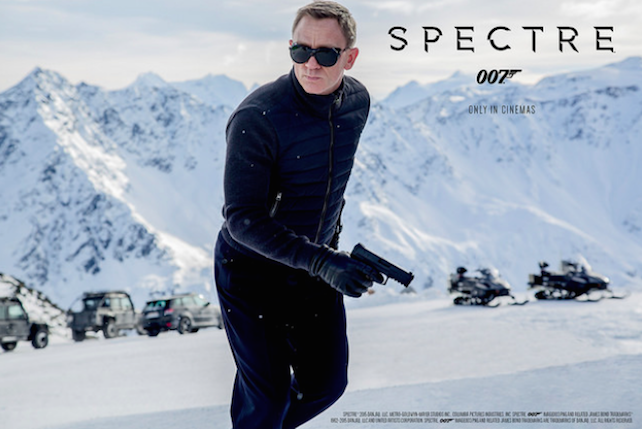 Arnie Wilson watches the latest Bond film (but it's in German) and skis the Sölden slopes that 007 never skis!
Spectre, the new James Bond film with many scenes shot in Sölden, just down the road from The Chalet at 11 º East, was a bit of a disappointment when I saw a special screening in Innsbruck at the end of October – not so much because it was dubbed in German (although that was rather frustrating)…but because there's not a single shot of anyone skiing!
But to compensate for that, 007 does at least get involved in lots of action on and above the snow on Sölden's Rettenbach glacier. And although there's no skiing in the film, the glacier resort certainly offers the special-effects team a feast of possibilities, with Alpine shoot-outs and car chases galore on snow.
The most dramatic involves Daniel Craig (as Bond) using a light plane (could it be a Britten-Norman Islander painted back?) to ram one of the Spectre henchmen's 4X4s to try to rescue the female star of the movie, Dr Madeleine Swann (Lea Seydoux). The wings come off, and what's left of the plane ploughs through a group of chalets.
But of course Bond lives to fight another day – and so does Dr Swann.
I was skiing in Sölden in a visit timed to coincide with the screening at Innsbruck's Metropol theatre, and it was hard to believe – on such a glorious autumn weekend – that less than a year earlier no fewer than 500 people had been working on the glacier sequences. In the film, the resort's iconic Ice Q restaurant – all glass and stainless steel, perched on the Gaislachkogel, the resort's third 3000m+ peak – becomes Spectre's mountain-top lair. Here, Ernst Stavro Blofeld, a thoroughly nasty piece of work and Bond's greatest enemy, tries to break 007 with some unspeakably fiendish torture. Once again, however, Bond survives (almost unscathed).
It was during a scenic lunch here under a cloudless late October sky that Jakob Falkner, the general manager of both restaurant and the gondolas that get you there, explained why the film we'd watched the previous evening had been the German version. We'd been expecting at least English sub-titles. But it seems that wherever a Bond movie is screened it must be dubbed in the language of that country. Thus many of us were almost entirely baffled by what was going on in the film… except that 007 was, as ever, too tough to die and too sexy not to get the girl!
Needless to say, the good burghers of Sölden (1380m) and the Ötztal in general, including Obergurgl, of course, are thrilled that their truly spectacular valley was selected for such a major role in 007's latest action-packed adventures.
During our visit we could hardly escape Bond's influence. There were 007 bottles of Heineken at the cinema, a 007-themed après party (with 007 chocolate cake and Spectre white chocolate cake after the screening) and a Bond dinner at the Das Central five-star hotel where we stayed in Sölden (as did "Q" – played by Ben Whishaw). We were all given 007 posters, and there was even a slice of carefully boxed James Bond cake to take home.
But before we left, we just had to do what Bond failed to try – the skiing! Sölden's ski area is pretty impressive, with two glaciers – Rettenbach and Tiefenbach – and skiing as high as 4430m. All this provides some exceptionally long runs, with the possibility of skiing almost 10 miles from highest glacier slopes all the way down to the town. And when you buy a six- day lift pass in either Sölden or Obergurgl, for a small extra payment you can spend a day in the neighbouring resort just eight miles away.
Like so many Austrian attempts at promoting resorts and hotels, Sölden's Das Central hotel loves its purple prose! In its prospectus, the hotel gushes: "Welcome to a place which enthuses fastidious Alpinists. Which inspires easy-going nature lovers. Life in its sportiest and most elegant guise. Discover the power of tranquillity in every room". It gets even better when trying to describe who will benefit form a holiday in Sölden. "Little ski aces and big hiking kings. Snow princesses and forest fairies."
It all sounds like a nice gentle antidote to a rip-roaring James Bond movie like Spectre!